Sydney Water Refill Stations for Blue Mountains City Council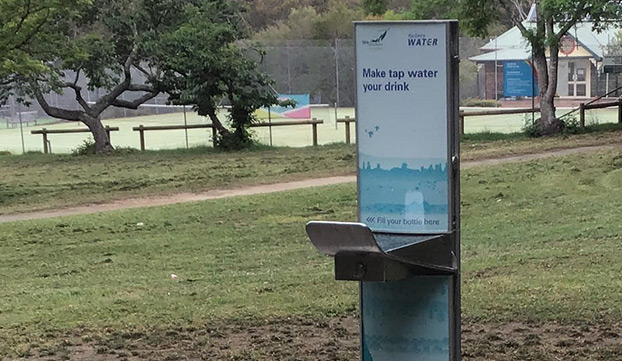 Watertight Group has recently been assigned to install six Sydney Water refill stations across the Blue Mountains City Council local parks.
We all know the devastating effects of single use plastics have on our environment so Blue Mountains City Council has entered into a partnership with Sydney Water to establish water refill stations to make drinking water more accessible in public places. The water refill stations, provided by Sydney Water, will be installed by Watertight and maintained by Blue mountains City Council.
Locations of new water stations
New water stations will replace existing bubblers at the following sites:
 Maple Grove, Katoomba   Knapsack Park, Glenbrook;  Summerhayes Park, Winmalee;  Wilson Park, Wentworth Falls.
New Water Stations to be added, in a new location, (require concrete slab and water set up) at the following sites:
 Pitt Park, Wentworth Falls;  Lapstone Oval, Lapstone.
Watertight is tasked with the following to complete this rollout:
Prepare and implement appropriate Traffic Management & Control Plans and Pedestrian Control Plans;

Prepare and implement appropriate Environmental Management and Erosion & Sedimentation Control Plans;

Appropriate recycling or disposal of any removed or waste material;

Undertake any necessary adjustments to services, pits, driveways, laybacks, footpaths, road verges as required and make good;

Restoration of any disturbed areas of footway and roadway – to be restored to condition prior to construction;

Remediation and clean up of the area after construction works are completed;

Appropriate staging to ensure that access is provided to all road users, including vehicles, pedestrians and cyclists;

Minimal disturbance of surrounding environment; and

Minimal disturbance of creek flow in terms of quality and quantity.
Watertight is elated to be part of such a positive environmental step forward. These water refill stations not only help the environment, but help with the budgets of local families by providing some of the best water in the world free of charge. These specially designed water refill stations also have a dog water bowl to help keep our fury friends hydrated too.
email: info@watertight.com.au
https://lovewater.sydney/water-refill-stations
#SydneyWater #BlueMountainsCityCouncil #Watertight