TMV Plumbing – Testing & Maintenance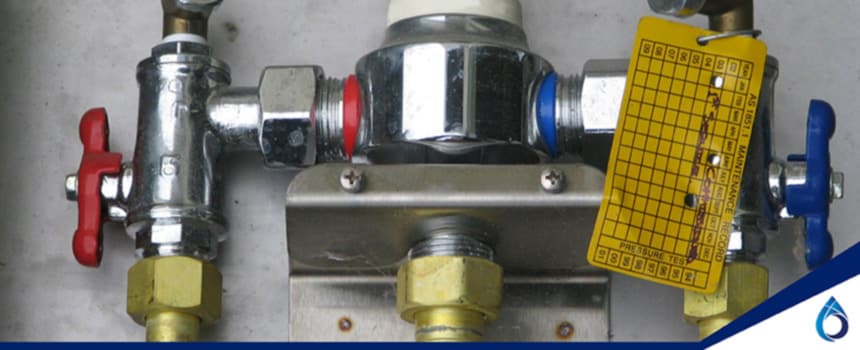 A Thermostatic Mixing Valve (sometimes called a TMV) is a valve that blends hot water with cold water to produce an even temperature thus ensuring there is constantly safe outlet temperature, preventing scalding.
Thermostatic Mixing Valves are used to protect people especially customers, the elderly, people with a disabilities and young children, from the scalding effects of water that is too hot. They also reduce the risk of disease spreading in your water supply as hot and cold is mixed at the right temperature just prior to coming out of the tap.
An extremely important function of a TMV is if the supply of cold or hot water is lost, the water flow will shut down immediately, preventing scalding, burning and dangerous reactions from moving too quickly away from a too hot or too cold water stream resulting in injury.
Approximate contact times to receive a third-degree burn:
At 70°C – 1/sec adult – 0.5/sec child
At 60°C – 5/sec adult – 1/sec child
At 55°C – 30/sec adult – 7/sec child
Below 50°C – approx. 5 mins adult/child
Due to the potential for serious burns at 60°C, there is a compliance requirement to ensure a safer temperature at the tap. AS3498 is the standard used for TMV installation and testing and it requires the delivery of hot water for personal hygiene to be delivered from the tap at a maximum of 50°C to prevent burns. For early childhood centres, schools, aged care, corporate facilities or other specific businesses with customers at risk like hairdressers or beauty salons the maximum temperature at the tap must be 45°C.
At Watertight Group we provide correct installation, maintenance and annual testing of your Thermostatic Mixing Valves (TMVs) to ensure that they are operating correctly, protecting you, your business and your customers and staff. Our highly experienced team are qualified to service and carry out an annual TMV testing and maintenance program on all forms of TMV's.
In many industries including aged care facilities, installation and yearly certification of thermostatic valves is a compliance and legal requirement. The TMV Testing Requirements according to the Australian Standard (AS4032.3) states that a TMV shall be inspected and maintained at least every 12 months and the replacement of thermostat and o-rings every 5 years. NSW Health Act 2010 requires hospitals to test TMV's every 6 months to ensure scald prevention.
Book Watertight Group today for these facilities:
Hospitals and medical centres
Hairdressing and beauty salons
Disabled amenities/facilities
Childcare and early learning centres
Aged care and retirement facilities
Our expert plumbers and tailored scheduled maintenance programs keep your operations running as efficiently and smoothly as possible and prevent small and large scale problems from occurring, saving you unnecessary insurance claims, lost productivity and safety issues. We can work around your patients, guests, customers, students and staff to ensure your facility is not affected by any down time from our works. Watertight Group provide these services across all areas including: Sydney CBD, Greater Sydney areas, Illawarra region, ACT, Goulburn, Central Coast and other regional NSW areas).
Testing and maintenance program
Contact us today to create a specific annual TMV testing and maintenance program for your business. We can provide you with a location or condition asset audit. We can GPS where all your valves are located. As part of our quality guarantee you will never have to worry about forgetting your test again. Watertight Group will send you a reminder for testing and arrange a convenient time to carry out testing ensuring we do not hold up the productivity of your business, school, entertainment, health, aged care or corporate facility.
Frequently Asked Questions
Since our founding in 1993, Watertight Group has performed professional groundwater, drainage, commercial plumbing, sewer, and facilities maintenance management across NSW and ACT, Australia. We offer our expert services at affordable prices to ensure that businesses of all sizes and industries can get the long-term maintenance they need to succeed.
One of our most notable services is Thermostatic Mixing Valve (TMV) testing and maintenance for commercial, corporate, government, health and industrial sectors. Our highly experienced team combines engineering, high-performance disinfectants, and the latest testing equipment to ensure that TMVs are well-serviced and maintained.
What is a TMV? 
A TMV is a plumbing valve that regulates water temperature by blending hot water and cold water to produce an even temperature. This ensures that the water coming out of sinks, showers, and other taps is safe and comfortable for use. They're frequently used as a safety measure in social and healthcare environments, as they prevent scalding injuries from boiling water.
How do TMVs work?
TMVs control hot water outlets and secure water levels when the flow rate and pressure change. As both cold and hot water run through the mixing valve, the internal thermal component carefully combines the water to produce a mixed water stream at previously set temperatures of 39°C and 43°C.
If the cold or hot water supplies fail, the TMV's thermostatic mixing mechanism steps in and shuts down the device, preventing boiling water from hurting the user.
Why are TMVs important?
By regulating water temperature, TMVs can prevent serious burns caused by scalding water with a temperature as high as 50°C.
Scalding can cause long-term damage and even prove fatal. It disproportionately affects young children and seniors, making TMVs a necessity in aged care facilities and early childhood centres. TMVs also prevent accidents in facilities that use significant amounts of water, such as hairdressers and beauty salons. Please reach out if you'd like us to perform a thermostatic mixing valve installation that will protect you, your business, your staff, and your customers.
What are the TMV regulatory requirements?
New South Wales has complied with the plumbing code of Australia since 1 July 2013. This includes the hot water temperature regulations NSW, which requires all hot water systems to have a temperature control device that prevents tap water from going over 50°C. As for tempering valves maintenance, manufacturers recommend that tempering valves are replaced every five years.
What happens during a TMV testing service?
At Watertight Group, our experts use a checklist for every tempering valves maintenance service. This includes a visual inspection, followed by measuring and recording water temperature, fail-safe TMV testing and cleaning, descaling, and disinfecting the device. It's crucial to regularly clean TMVs and remove dirt that can lead to microbial growth, like Legionella.
Contact Watertight Group for expert TMV services
Watertight Group is a trusted resource for the corporate, commercial, health, and government sectors of Australia. Our expert plumbers offer scheduled maintenance programs in a wide range of facilities, including medical centres, childcare centres, beauty salons, disabled facilities, and retirement facilities.
We'll ensure that all operations are running as efficiently as possible, all while preventing both small- and large-scale problems. This will promote productivity while reducing any potential safety issues, saving you from avoidable insurance claims.
If you'd like to book a TMV maintenance service or have any questions, please don't hesitate to call 1300 745 758, email info@watertight.com.au, or fill out our enquiry form. We'll get back to you as soon as possible.
For more information on TMV testing and maintenance, get in touch with our professional team by calling 1300 745 758 or drop us an email at info@watertight.com.au