Kogarah Town Center Fountain / Georges River Council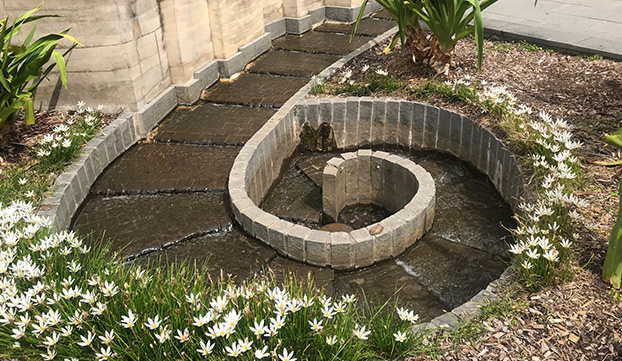 Watertight recently repaired a a water feature for Georges River Council, located in Kogarah Town Square, in the southern suburb of Kogarah.
Kogarah is a central hub of the Georges River Council and has a mixture of residential, commercial and light industrial areas.
Kogarah Town Squares' water fountain was installed in 2005  when the square was initially opened. The water rises from the three fountains which spill into a pool. The water then cascades down a number of terraces and drains into a spiral among the grasses.
Georges River Council contacted the team at Watertight, after having temperamental issues with the fountains operating and chemical system, and along with assistance from  Hydro Flow were ably to rectify in less than a week.
As part of the repair Watertight completed a refurbishment on the plant room and replaced pumps due to ceasing from not operating. And with the assistance of Hydro Flow, installed a new chemical dosing system to ensure water remains clean and safe for children and wildlife.
Residents and visitors are extremely happy to hear the gentle sounds of water flowing again in the square and the Georges River Council Asset Manager is thrilled to have this iconic feature of the Town Square operating again.