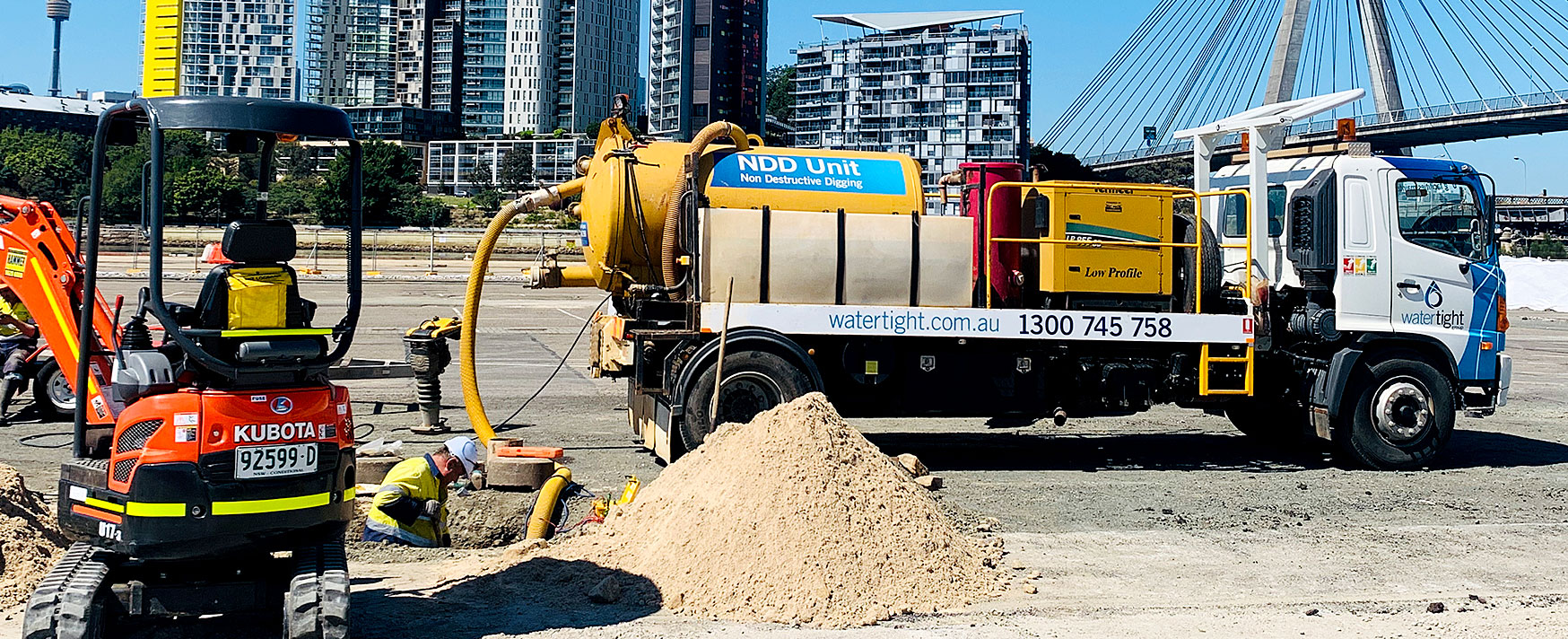 Hydro Vacuum Excavation/NDD (Non-Destructive Digging)
Watertight are Hydro Vacuum Excavation experts. Our non-destructive digging technology uses high pressure water to dig into the earth. This method of excavation is super fast and improves the safety of workers on site, is more cost effective and importantly, vacuum excavation is significantly more environmentally friendly than conventional digging machinery.
Watertight's Hydro-Vac (NDD) uses the latest technology available to ensure that the site is left with as minimal damage as possible. When locating cables and vital services, it is imperative that care is taken. Unlike conventional excavation, where an machine digs up everything, vacuum excavation is safe, easy, has no risk of damage to services and leaves the site clean.
Hydro Vacuum Excavation can be used in conjunction with our service location to identify sensitive services and to eliminate any costly damage, breakages and accidents involved in any type of mechanical excavation.
Watertight Group has invested in high quality equipment and trained our experienced staff to turn your most difficult and sensitive excavation task into a safe and efficient one. Whether you're on an industrial, commercial or domestic site, on a road way or public site or direct drilling, we can remove your risk of hitting utility services and make the job safe, quick and easy.
Watertight Group are Non-Destructive Excavation specialists in:
Pot Holing
Pot holing is the use of the NDD (high pressure water and vacuum) to excavate around and expose underground utility services such as electricity, gas, communications lines, water and sewer pipes. This is done safely, quickly and easily with quality equipment and trained staff. The high pressure water erodes the earth around the utility and then vacuumed to a truck tank for disposal. We properly dispose of all the waste for you so you do not have to be concerned about spoil waste.
Non-Destructive Digging/Hydro Vacuum Excavation
This is essentially pot holing, but on a larger scale. The NDD is used to "excavate" a trench within a potentially sensitive area to expose existing services or to ensure no underground utilities are present.
Pier Hole Cleaning
Hydro Vacuum Excavation can clear all residual loose earth from pier holes prior to pouring concrete. Mechanical extraction methods in pier holes have limited use; we can clean pier holes properly.
Pit Cleaning
High performance non destructive equipment makes pit cleaning quick and easy. Hydro vacuum cleaning of electrical and communication pits is the only practical way of cleaning them properly.
All assets are safely protected when you dig with Hydro Vacuum Excavation Equipment. Our machines are engineered to excavate at the ideal pressure to allow the fastest hydro excavations possible with the assurance that it will not damage even the thinnest of irrigation or phone lines.
Whether you are trenching across optic fibre or digging a pole hole near poly pipelines, hydro vacuum excavation is the safe and obvious choice.
De-watering
A water logged construction site can delay progress which increases project costs. Watertight are able to remove rain water from post holes, trenches, pier holes and pits quickly and easily getting your project delivered on time.
Flushing/Cleaning Stormwater Pits
During the course of a project or over time without flushing, debris can build up in the stormwater pits resulting in unnecessary blockages. Watertight Group can clean and flush stormwater pits of rubbish, soil, leaves, branches and other debris using our non-destructive stormwater pit cleaning process. Many customers ask us for this service as part of a preventative maintenance program for their facility.
Post Holes for Fences and Signs
Manually digging just a few post holes can be a time consuming and labour intensive task, so if you need to dig a number of these there is a much faster way. Suckers Excavations has dug post holes for many applications including fences, signs and poles by utilising both water pressure and vacuum suction to excavate the holes. Our specialised equipment is precise, meticulous and suitable for trenches, post holes or large excavation projects.
Vacuum Excavation v. Traditional excavation
The popular belief is that traditional excavation is cheaper than vacuum excavation. However, the traditional digging methods take much longer and why vacuum excavation services are most cost effective.
Then you need to consider the cost benefits of vacuum excavation due to its lower risk for underground utilities damage, higher worker safety and far fewer potential liability issues. The pros for using vacuum excavation quickly add up. You do not want to spend days on site digging around something that you could easily pierce using an regular excavator or hand digging.
Watertight Group's Hydro Vacuum Excavation Unit combined with our highly experienced team proudly service the Sydney CBD, Greater Sydney areas, Illawarra region, ACT, Goulburn, Central Coast and other regional NSW areas.
For more information on any of the above services, please contact Watertight Group on 1300 745 758.